STD: THE ENIGMA OF THE HYKSOS WORKSHOP @11TH ICAANE 2018
March 27, 2018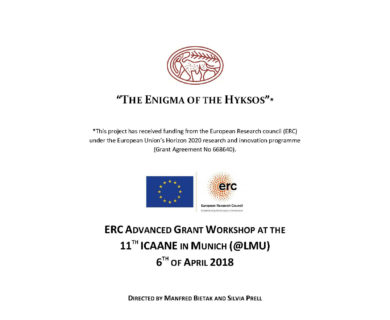 We are excited to inform you that we – The Hyksos Enigma project team – will host an all day workshop at the ICAANE in Munich this year! Come and see us on Friday the 6th of April at the Ludwig Maximilians University. For a list of participants please click the enclosed PDF file. This is an opportunity to get an insight into our research work and talk to us. We have also invited those who are interested in the topic to present a paper, so we can have some different perspectives which will give us hopefully some interesting discussions.
If you require further information please contact our office or check the LMU Website for the entire conference programme online: http://www.icaane2018.vorderas-archaeologie.uni-muenchen.de/index.html, Conference dates 3. – 7.04.2018.
WORKSHOP PROGRAMME DOWNLOAD PDF FILE WS_The Enigma of the Hyksos
See you in Munich, 6.04.2018!