2 Presentations @ Conference 'The Crossroads III' in Prague
October 3, 2018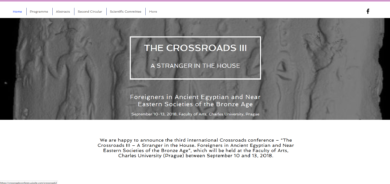 The PI, Prof. Bietak and Post Doc Sarah Vilain (RT6) attended this year's Crossroads Conference in Prague. Both lectures took place on Thursday, 13th of September, at the Charles University.
Manfred Bietak presented, How can we track the origins of foreign cults in Egypt: The example of Avaris/Tell el-Dab'a and Sarah's presentation was titled The foreign trade of Tell el-Dab'a during the Second Intermediate Period.
We expect the lectures to be published by the organisers in a volume on the conference contributions in a little while.
For more information on the conference 'The Crossroads III. A Stranger in the House', see/click:
Crossroads III Conference
Conference Programme